About us
We have realized a family dream because meeting people from different countries and cultures makes us particularly happy. The result is Vistazzurra B & B, an authentic hospitality for those who love to live in contact with nature away from the bustle of mass tourism.
In the Country House, we offer the tradition of flavors and aromas, which form the taste of being together: it takes time, passion and many good ingredients to ensure a good awakening every morning, emotions every day and feel at home every time.
You are our guests, for a refined and unusual experience created for you by who loves to make you happy.
Welcome to "Vistazzurra" …by Robert and Lucie
Book
THE DAYS …
… should start with a hug, a kiss,
a caress and a cafe.
Because breakfast should be abundant.
(Charles M. Schulz)
How to start your day VistAzzurra
The day should begin with a hug, a kiss, a caress and a coffee. Because breakfast is the first and most important meal of the day and must be abundant. A wonderful way to wake up and say good morning.

Have you ever wondered why this breakfast we enjoy is so special.?.
… the eggs are fresh, the fruit is km.0, the sliced is typical of the area and because you will find something new every morning. But what really makes the difference is the family tradition, taken care of by the owner of the B & B that has a real talent in the kitchen, and every morning prepares delicious desserts, customized for guests, providing the excellence of breakfast as a priority of hospitality.
At Vistazzurra B&B we know how to do it and making you happy.
Italian breakfast: espresso, milk and cappuccino, fruit juices, hot brioches, handmade cakes, homemade bread, honey, butter and jam.
International breakfast: long coffee, milk, tea, yogurt with cereal, orange juice, cold cuts with local cheeses, toast with peanut butter, fried eggs and scrambled, omelettes and pancake with maple syrup and honey.
Vegetarian breakfast: yogurt with cereals, seasonal vegetables with tomatoes, cucumbers and radishes, carrots, celery and spreadable cheese, nuts, fruit juice and fresh fruit.
The good breakfast is a nice smile given every morning.
OFFERS
The journey is a door through which one enters into dreams…
"NOVEMBER DECEMBER" DOUBLE ROOM OFFER € 60,00
VISTAZZURRA B & B – Contact Us +39(342)5875967 – info@vistazzurra.it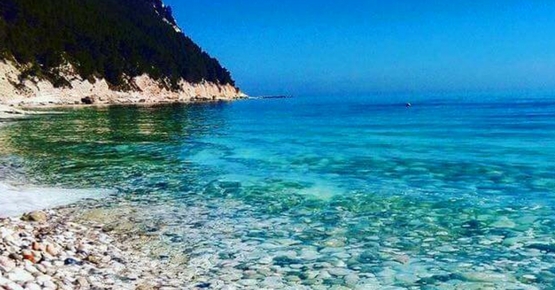 On offer from 350€ – "Only the music live up to the sea"  
For those who love to travel in the emotions, to be captured by the beauty of nature and breathe the harmony that only music can offer, in an atmosphere of total relaxation. Book your week for 2 guests, a double room at the Vistazzurra B&B. We will greet you with a welcome drink, our delicious home-made breakfast, a  comfortable room always available with a corner to make a cup of tea and herbal tea. We provide parasols and beach towels for excursions to the free beaches
Contact Us to Book
On offer from 160€ – "It's impossible to love and be wise"
For couples to pamper themselves, and each other. For those who want to still amaze, for those who simply love the comfort of nature. Book 2 nights the double room for 2 guests at the Vistazzurra B&B. Nothing says "Welcome home" like a bottle of bubby in flute, flowers and scented candles in the room. Water, tea, herbal teas and coffee available. Jacuzzi on request. Every day waking up with pampering time, a choise of sweet and savory breakfast buffet with local homemade delicacies.
Contact Us to Book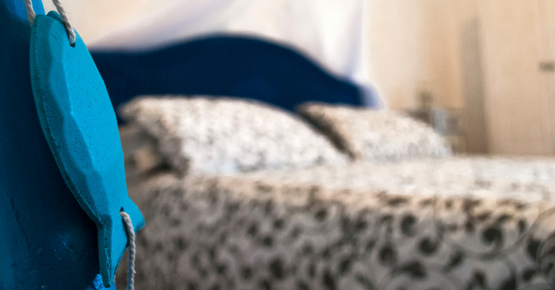 On offer from 240€ – "Optimism is my best defense"
For business travelers and looking for an oasis of tranquility, those for tourism to taste the flavors of the area, for a real stay between sea, sky and nature. Book a double room for 2 guests at the Vistazzurra B&B, 4 nights between Monday and Thursday. We will welcome you with a warm smile in a family environment,  our excellent home-made breakfast, a room always available with a corner to make a cup of tea and herbal tea.

Contact Us to Book
On offer from 150€ per night – "Nothing it's impossible"
Reserved for large families and groups of friends (minimum 2 nights), the freedom of the entire floor of the farmhouse.  B&B service up to 6 guests , with 3 bedrooms, 2 bathrooms, jacuzzi, 1 breakfast room with microwave and fridge, coffee machine, kettle for tea, herbal teas and American coffee. Daily choice of breakfast with dried fruit, local cold cuts and home-made delicacies, served buffet style in a friendly and familiar environment.
Contact Us to Book
THOUGHT FOR YOU
"We all live under the same sky,
but we don't all have the same horizon"
Konrad Adenauer
IN ROOM-SERVICE
(PAY ON DEMAND)
ADDITIONAL BED
(PAY ON DEMAND)
UMBRELLA AND TOWELS
(FREE)
CAR SHARING
(PAY ON DEMAND)
THE DREAM VISTAZZURRA
Make your dreams come true even before the desires
Around
The B&B Vistazzurra recommends places to visit and specialities to taste
5 MINUTES FROM:
Highway A14 Ancona
Ancona Railstation
Port of Ancona
Marche airport
Ancona Palaindoor
Italian Navy
Ancona Court
University of Medicine
Regional Hospital Torrette
WHAT TO SEE
Ancona City
The ancient port
Portonovo, Numana, Sirolo beaches
Park of Conero Mountain
Camerano, Osimo and the caves
Castelfidardo, Recanati and Offagna
Senigallia and velvet beach
Loreto and the Marian Shrine
Frasassi Natural Caves
WHERE TO EAT
The B&B Vistazzurra offers you the best restaurants where you can taste the local specialities of Marche meat and fish from the Adriatic sea, at special price. Recommended the grilled "Chianina Steak", the "Wild Mosciolo" of Portonovo (Slow Food Presidium), the "Stockfish" and the "Fish Broth", typical of Ancona.
DISCOVER ANCONA AND MARCHE
Nature, landscapes, history and great food.
The dream continues …
WHERE WE ARE
In Ancona, a few kilometers from the city center and the beautiful sea of "Riviera del Conero"
B&B VISTAZZURRA – via Tronto 59, Ancona (Italy) – tel. +39 342 587 5967
Search directly "VISTAZZURRA" on Google Maps and calculate your route.
GPS: 43.596895 – 13.440669
B&B Vistazzurra
Via Tronto 59 – 60126 Ancona